1984-1985
Victoria Hotspurs win 7th Title and lose Rikardu.
The team
Back Row: R.Portelli, Tw.Farrugia, V.Fenech, G.Cauchi, F.Portelli, Jes.Buttigieg, Noel Cardona, Colin Attard,
Front Row: D.Grech, K.Portelli, Emm.Cremona, G.Formosa, A.Sacco, A.Cassar u M.Cremona.
Other team players not in photo: J.Grima, M.Grech, A.Sillato, u Tw.Attard, M.Xerri
Results
21.10.84
vs Xewkija Tigers
0-0
18.11.84
vs Cal.Bosco Y.
0-0
25.11.84
vs Victoria Utd
1-0
N.Cardona
30.12.84
vs Nadur Youngsters
0-1
13.01.85
vs Sannat Lions
3-1
N.Cardona, C.Attard, Tw.Farrugia
27.01.85
vs Xewkija Tigers
0-0
03.03.85
vs Cal.Bosco Y
0-0
17.03.85
vs Victoria Utd
2-0
M.Cremona, N.Cardona
28.04.85
vs Nadur Youngsters
0-1
12.05.85
vs Sannat Lions
0-0
GFA Cup
**.10.84
Quarter-Final
vs Xaghra Utd
1-1
a.e.t N.Cardona - (pen 3-2)
**.10.84
Semi-Final
vs Ghajnsielem
0-0
a.e.t - (pen 2-4)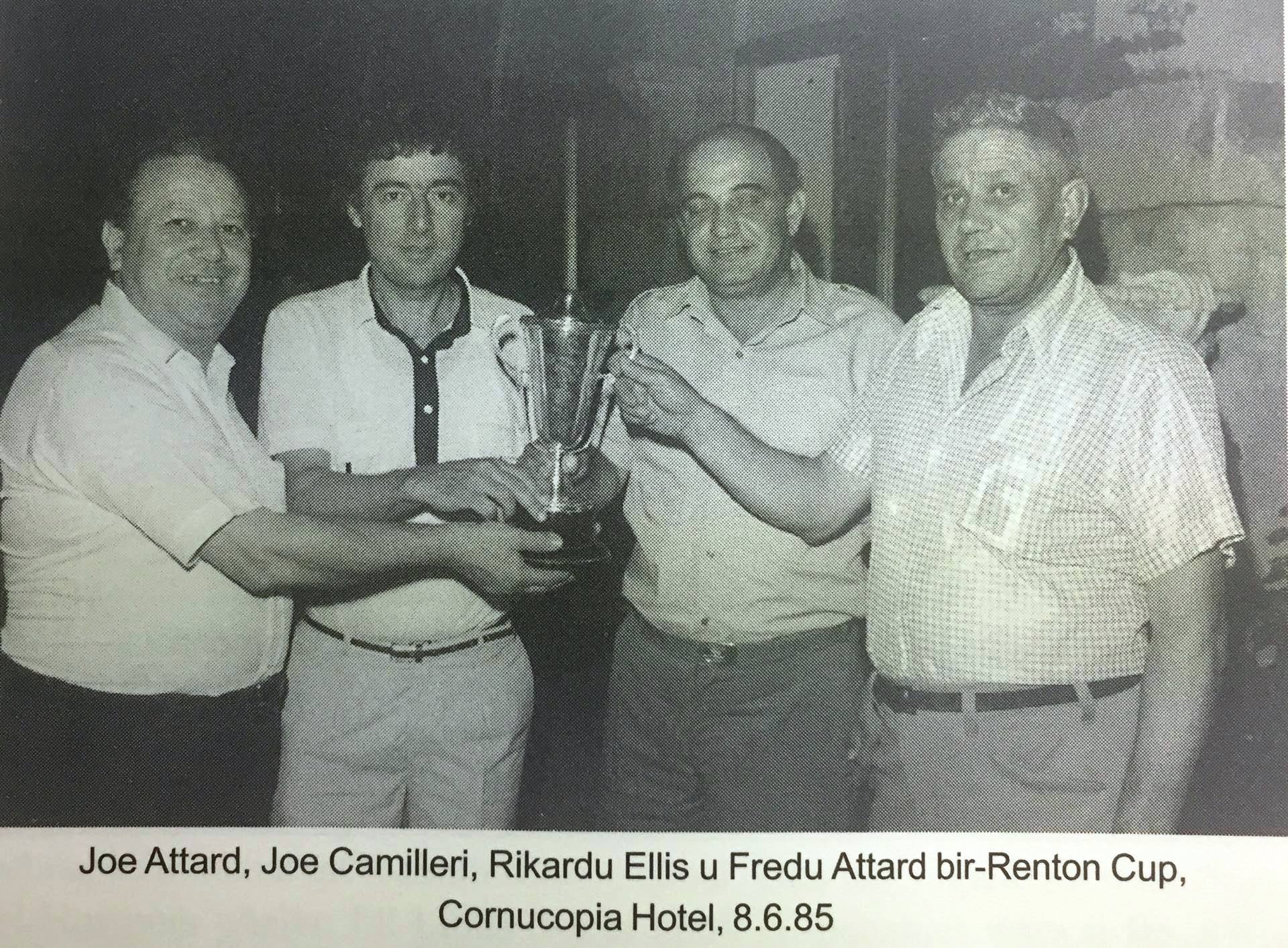 Is-Sibt 15 ta' Gunju filghaxija, konna qed nibku t-telfa ta' Rikardu Ellis bil-mewt tragika li garrab fuq il-bahar ftit 'l barra mit-torri tax-Xwejni meta kien hareg jistghad bid-daqxejn ta' qoxra li kellu.
Kienet it-tieni mewta tragika li laqtet lill-familja Ellis, anke lill-klabb, wara dik ta' huhom iz-zghir Gorg li semmejna qabel. Il-funeral kbir li kellu u n-nies li ppakkjaw il-Bazilika ta' san Gorg nhar it-Tlieta filghaxija, 18 ta' Gunju, taw xhieda tar-rispett li Rikardu kelli minn kulhadd.
Ghaqqadna l-istagun billi l-captain Dumink Grech gie vvotat bhal FOOTBALLER OF THE YEAR tal-GFA.
Komplejna wkoll bis-successi bit-tim tal-volleyball li rebah l-unuri kollha nkluzi l-kampjonat, it-Tazza Libjana u l-J.Cremona Cup, kollha kompetizzjonijet organizzati mill-Ghaqda Sportiva Ghawdxija.