1967-1968
With Nadur Youngsters winning the league, the era of Victoria Hotspurs has come to an end. During this season, the Under 16 League has been won against Xewkija Tigers with a draw of 1-1. The team players were: Gorg Cardona, Gorg Portelli, Duminku Grech, Sunny Pace, Gino Mizzi, Charlie Buttigieg, Leli Attard, Gorg (Picchi) Grech, Joe Sacco, Teddy (Hitchens) Farrugia, Gorg Camilleri. 
The team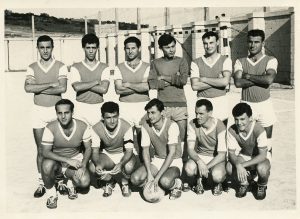 Back Row: Mario Grech, Franky Said, Lino Hili, Franky Mizzi, Lino Debono, Carmel Zammit
Front Row: Dolindo Cassar, Joe Camilleri, Gorg Cremona, Vincent Grech, Carmel Camilleri.
Results
19.11.67
vs Nadur Youngsters
2-3
V.Grech (pen), L.Hili
vs SK Calypsians
1-0
J.Camilleri
10.12.67
vs Ghajnsielem
1-2
J.Camilleri
01.01.68
vs Sannat Lions
2-1
J.Camilleri (pen), o.g. M.Spiteri
04.02.68
vs Nadur Youngsters
1-2
L.Hili
11.02.68
vs SK Calypsians
0-0
10.03.68
vs Ghajnsielem
2-0
F.Fenech, J.Camilleri
24.03.68
vs Sannat Lions
0-2
Galea Cup
01.01.68
Quarter-Final
vs Sannat Lions
1-0
J.Xuereb
16.10.68
Semi-Final
vs Ghajnsielem
1-3
Esso Cup
22.01.67
Quarter-Final
vs Ghajnsielem
3-3
T.Farrugia, F.Fenech 2 a.e.t
29.01.67
Replay Quarter-Final
vs Ghajnsielem
2-3
T.Farrugia, G.Camilleri